We are excited to have had private chef and recipe extraordinaire, Phoebe Maglathlin, put together some delicious winter recipes to share with our clients and friends! Our team has hired Phoebe for a number of virtual cooking classes and they are a blast! Highly recommend. Phoebe also offers weekly meal prep, private event catering and recipe development. Below you will find recipes for a Winter Grain Bowl with Maple Balsamic Dressing, Roasted Tomato Basil Soup and a scrumptious Pomegranate Margarita! Follow @foodbyphoebe_ or visit
www.foodbyphoebe.co
for more deliciousness!!
Warm Grain Bowl
Serves: 6-8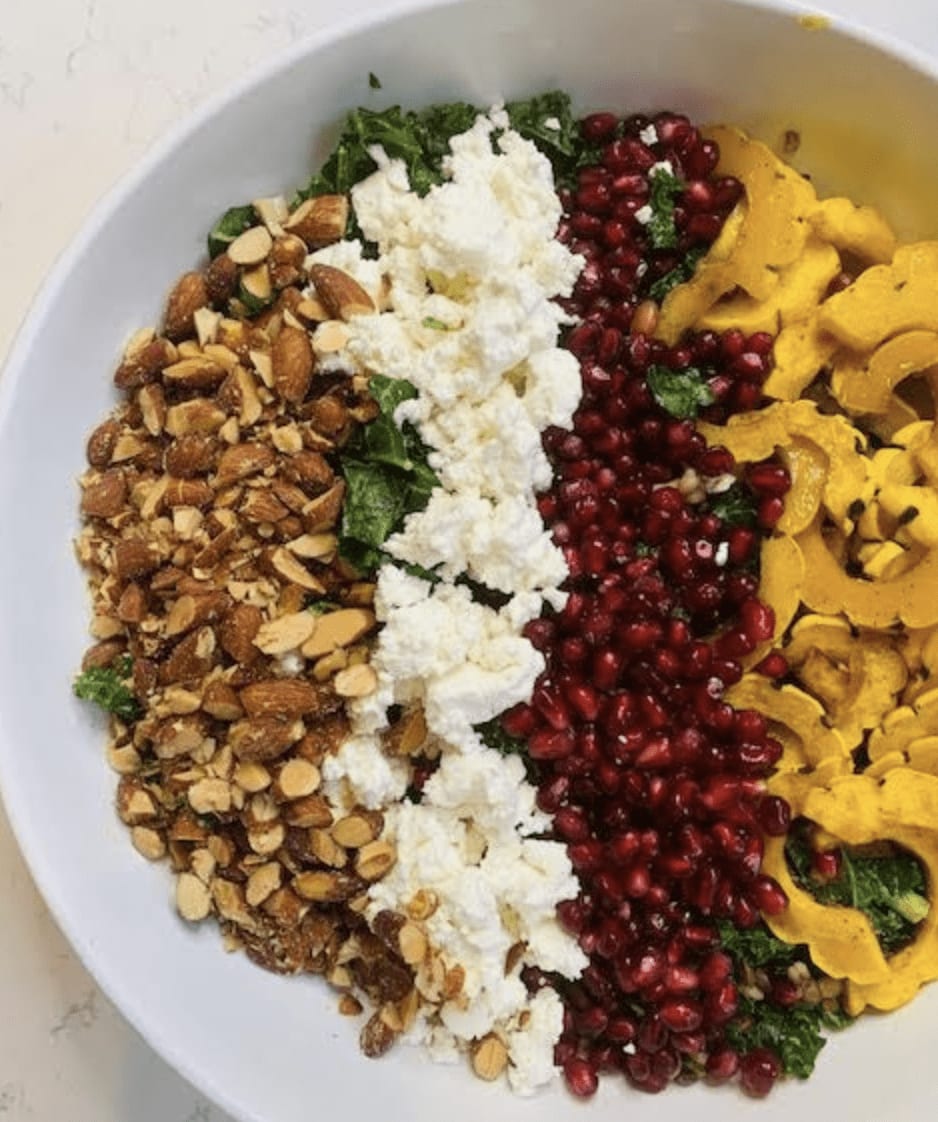 1 delicata squash, halved vertically, seeds removed, sliced into ¼ inch half moons1 tablespoon olive oilSalt and black pepper5 cups shredded kale½ cup
Not Just Salad Dressing
, OR Maple Balsamic (recipe below)2 cups cooked farro, quinoa, or brown rice (cooked per back of bag)½ cup pomegranate seeds (or dried cranberries/cherries)½ cup goat cheese, crumbled¾ cup smokehouse almonds, coarsely chopped (or regular roasted salted almonds)
Preheat oven to 450 with a rack in the middle position and line a baking sheet with foil. Place the sliced squash on the prepared tray and drizzle with the oil, ½ teaspoon salt and ¼ teaspoon pepper. Using your hands, toss the squash on the tray to ensure each piece is seasoned and coated with oil. Place in the oven for 15 minutes until tender and golden brown.

Meanwhile, add the kale, ¼ cup Not Just Salad Dressing or Maple Balsamic Dressing, and ½ teaspoon salt to a large bowl, massaging the salt and dressing into the kale with your hands. Stir in the cooked farro or grain of choice. Top the kale grain mixture with a line of pomegranate seeds, a line of goat cheese, a line of almonds, and a line of roasted squash (once tender). Drizzle with the desired amount of remaining dressing and serve.
Maple Balsamic Dressing
¼ cup balsamic vinegar

¼ cup apple cider vinegar

cup extra virgin olive oil

3 tablespoons maple syrup

1 teaspoon salt

¼ teaspoon pepper
Add to a medium bowl and whisk until combined and slightly emulsified.
Roasted Tomato Basil Soup (Dairy Free)
Serves: 6-8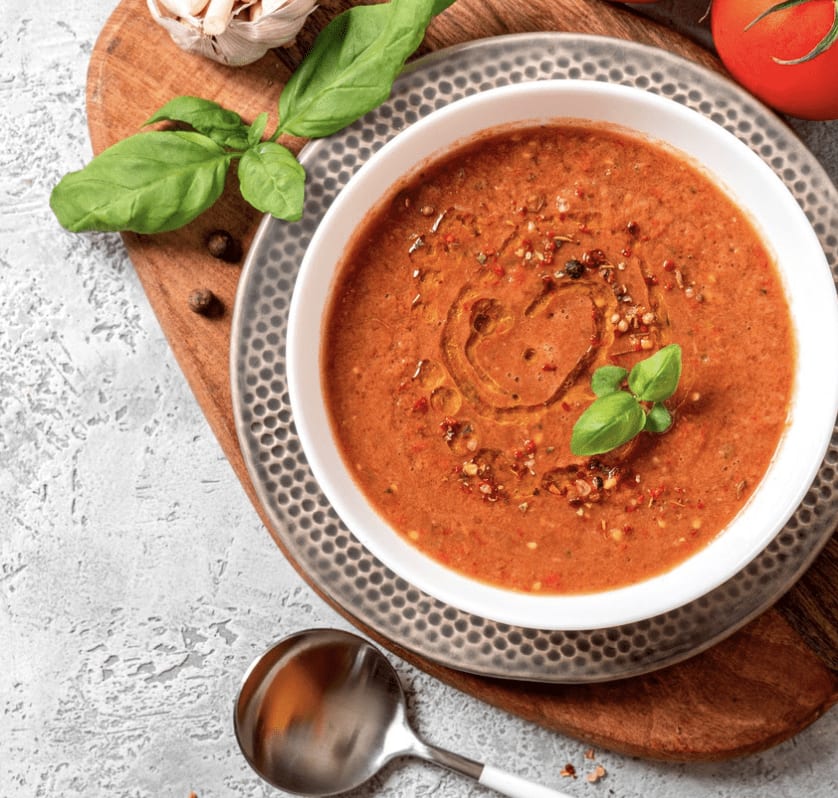 This soup uses no cream at all and packs a punch of flavor with the amount of fresh basil. I love to finish the soup with some crumbled feta and even some cooked orzo if you have some in the pantry!
8 plum tomatoes, halved vertically

4 tablespoons extra virgin olive oil

salt and ground black pepper

1 onion, chopped

¼ teaspoon red pepper flakes, plus more to garnish

2 cloves garlic, smashed

1 28 oz can whole peeled tomatoes

1.25 oz container fresh basil leaves (or 1 cup)

2 cups chicken or veg stock ( I love using better than boullion paste)

Feta or parm, to garnish (optional)

Banza rice, to serve (optional - it's almost orzo-like)!
Preheat the oven to 425 with the rack in the middle position. Place the tomatoes on an aluminum lined sheet tray, toss with 2 tablespoons evoo, 1 teaspoon salt and ¼ teaspoon pepper. Place in the oven until they begin to soften, caramelize, and release some of their juices, about 25-30 minutes.

Meanwhile, in a large soup pot or dutch oven, heat the remaining 2 tablespoons oil over medium heat until shimmering. Add the onion, red pepper flakes, garlic, and a pinch of salt and cook until fragrant and softened, about 7 minutes.

Add the canned tomatoes, crushing each tomato in your hand (careful to hold each tomato in the pot so that it splatters into the pot and not your shirt), and the stock and bring to a simmer over high heat. Reduce heat to medium low to maintain a steady simmer until the roasted tomatoes are finished cooking. Add the roasted tomatoes (juices and all), and basil, and simmer for another 10 minutes.

Use an immersion blender to puree the soup until silky smooth or transfer to a blender and blend on high, placing a rag on the lid as you hold it down for extra precaution. To serve, place about 1/2 cup banza rice in each bowl, fill to the top with soup, and garnish with extra basil, feta, red pepper flakes, and a drizzle of evoo.
Pomegranate Margarita
Makes 1 Cocktail



2 oz tequila

1 oz fresh lime juice

2 oz pomegranate juice (such as pom brand)

1 oz Cointreau or triple sec

Salt for rim (optional)

Pomegranate seeds, to serve (optional)
Rub the rim of your glass with a lime wedge and then dip it into a small plate of salt. Fill the cup with ice and set aside.

Add the tequila, lime, pom juice, and Cointreau to a cocktail shaker (or water bottle) and fill it halfway with ice. Shake, covered, until cold, about 20 seconds.

Pour into the prepared glass and garnish with pom seeds